... Where traditional meets contemporary music,
where classic meets neo style there is Barcelona ...

Carles Benavent Barcelona V with red cedar top, swamp ash body, gabon ebony fretboard, and one pickup layout with no controls


The Barcelona Bass guitar, beyond our OBSESSION series basses, was specifically designed for bass player Carles Benavent. In the beginning this instrument was not intended to be available widely to the public.
It is a semiacoustic bass with a sitka spruce top and two magnetic pickups. A beautiful mellow sound and mandolin size frets is what Carles asked for when I decided to make this bass for him.
It took lot of meetings with Carles in our shop in Barcelona in order to get that design.


With the help of Carles, I tried to design the instrument according to his previous basses and his very personal playing style, but it also had be different from what he played before now, so I blended it with my own philosophy and that bit of Neo style look.

The name Barcelona is a tribute to the town where both of us live.
Set-In Neck
Fully Adjustable Wooden Bridge
100% adjustable bridge at intonation and string action, string spacing is 14,3mm
on photo: Propietary bridge equiped with optional RMC piezo saddles
Ebony Pickguard

Detachable pickuard between double coil neck pickup and fretboard.

Flat (no radius) Fretboard
Detail of Barcelona Carles Benavent Signature flat fretboard.
Two Pickup Configurations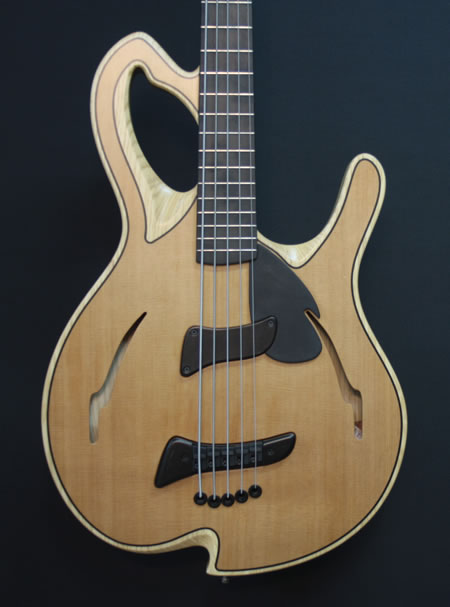 Barcelona Carles Benavent Signature is available in two pickup configurations:
1 PICKUP version
This is original version as Carles Benavent asked us, the pickup is located more in the middle of the body. This original pickup is humbucker double coil style.
on photo: Carles Benavent main axe with red cedar top, gabon ebony fretboard, swamp ash body with doublecoil pickup wired directly to output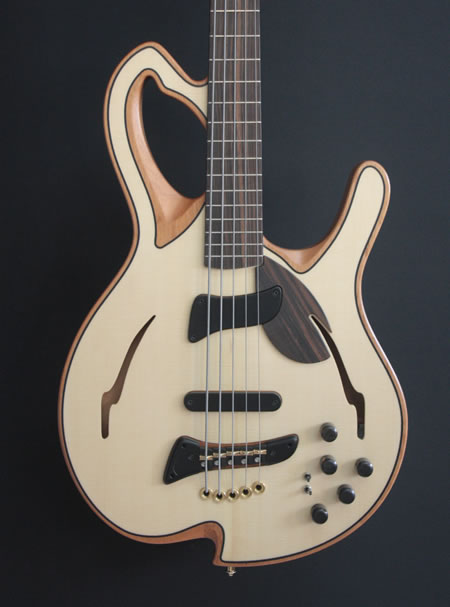 2 PICKUPS version

Two pickups version with doublecoil humbucker pickup in neck position and hum canceling split coil pickup in bridge position


on photo: Barcelona Carles Benavent Signature bass with two pickups with german spruce top, spanish cedar body,macassar fretboard and optional Piezo saddles and MIDI

Barcelona Carles Benavent Signature specifications

String version

5 string

Scale

32" (812,8mm)

Standard Frets nº

24 mandolin frets; 1,35mm wide and 0,94mm high
Is 28 fret version available?



no


Is 36 fret version available?



no

Body
swamp ash or spanish cedar
Construction
set-in neck construction
Neck
3 piece, maple and ash with thin wenge runners
Headstock
Angled 8º grade; headstock top may match body top upon request
Fretboard
Ebony
Fingerboard Radius
flat ( no radius)
Inlays
2mm diameter side dots, Frontal 6mm diameter markers are optional
upon request at no charge
Nut
Ebony

width at nut

39mm

width at 24th fret

62mm

Thickness 1st fret

20mm

Thickness 12th fret

22mm

Tuners

Hipshot Ultralite

Bridge

Jerzy Drozd propietary wooden bridge, fully adjustable. strings thru body

strings spacing

@ bridge

14,3mm

Standard Hardware color

Chrome plated
Pickups

JeDXD bass picup - Jerzy Drozd double coil pickup or double and single coil type pickups

Electronics

Passive (Aguilar OBP-3 active bass preamp - 3 band available as custom option)

Controls

Volume, Balance, Treble, Middle, Bass, Passive tone, Active/pasive switch and Mid
frequency selector

Knobs

Wooden dome knobs, 18mm diameter

Body finish

Poliurethane/ Acrilic satin finish

Neck finish

Poliurethane/ Acrilic satin finish

Strings

Jerzy Drozd "Classics" 100-80-60-40-30 with Hi C


Case

high quality gig bag

weight (*)

3,1kg
(7lbs)

(*) these numbers are average for standard Barcelona Carles Benavent Signature bass guitar and may vary depending on chosen woods and one pickup or two pickups version


All features and specifications subject to change without notice. last updated 1 December 2012

Prices may vary depending on version, chosen finish and hardware.

Carles Benavent Barcelona V with red cedar top, swamp ash body, gabon ebony fretboard, and one pickup layout with no controls

Carles Benavent Barcelona V with flamed eucalyptus top, swamp ash body, gabon ebony fretboard, and one pickup layout with no controls

Carles Benavent Barcelona V with german spruce top, spanish cedar body, macassar ebony fretboard, and two pickups layout with Piezo bridge , MIDI, 5 knobs and 2 switches control layout

Carles Benavent Barcelona V with eucalyptus top, swamp ash body, gabon ebony fretboard, two pickups layout with OBP-3 preamp and 5 knobs control layout

Chick Corea The Ultimate Adventure, Live in Barcelona 2007
Carles Benavent playing his Barcelona V Signature with Jorge Pardo and Tino Di Geraldo
Carles Benavent solo with his Barcelona V Signature
Carles Benavent Ensamble