... Oracle bass is our last creation inside of our bass guitar line.
It was created specialy to offer you great playability and wide varitey of sounds within lightweight and 33" scale instrument ...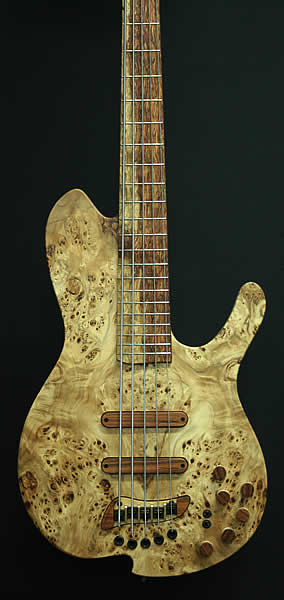 The Oracle bass guitar has it´s own unique caracter with diferent sound variation than
Obsession series
. What you will note soon is it´s light weigh
which not only contribute to great playability but also to the sound. The easy access to upper frets, great ergonomic in sitting or standing position and of course the sound will make a joy playing this unique instrument.
We have decided for 33" scale for this bass to make it´s sound caracteristics unique and to make the whole neck playable without any restrictions. If you are used to play long 35" scale basses you will feel difference on the first sight.
El Oracle™ is our response for bass guitar focused on great playability and great ergonomic. If you spend long hours playing and giging and you need lightweight and easy to play instrument then Oracle bass guitar is for you.
Due to it´s dual pickup position we also created unique thumbrest so you can feel confortable along entire space between fretboard and pickups. Our two JeDXS single coil split pickups are wired in series/paralel for exquisite soundings.