Your Bass Guitar Setup solution is:
The Ultimate Guide To The Perfect Bass Setup
Everything You Always Wanted To Learn and Know About Perfect Bass Setup
Free pdf downloadable bass guitar book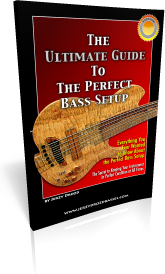 Let´s say you are a bass player maybe for quite some time, for a few or more years, or maybe just for few months or even days. You love your bass guitar and you enjoy playing it.
But here is the point: you want to know ALL the secrets of it!
Not only playing and creating music but also how to care for it, how to adjust it correctly how to make a perfect set up to fit your particular needs. So, you will ask: Where I can learn these skills?


The Ultimate Guide To The Perfect Bass Setup bass book is here
Finally the Ultimate Guide To The Perfect Bass Setup is here and this is my answer for all of you searching for a convenient and complete guide for doing bass set ups, maintenance and cleaning.

Here is what you will learn with this Guide:
General cleaning procedures of fretboard, bridge and electronics
Correct string installation
Precise adjustment techniques for bridge and pickups
Precise truss rod setup techniques for correct neck relief
Secrets of Advanced Setup techniques for necks with double truss rod system

You will find inside also:
Radius templates for correct bridge adjustment for standard basses
Radius templates for correct bridge adjustment for ERB basses
Tuning tables for standard and ERB basses

and more...
What people say about The Ultimate Guide To The Perfect Bass Setup Guide:
It 's a funny thing, I've been playing bass for 20 years and never knew or learned how to setup my basses. Your guide made it easy! Many thanks!
This is probably the best pamphlet on setting up a bass I've ever read, and it was free. Jerzy is an awesome guy for doing this
Hi Jerzy,

I would like to thank you for the guide you published regarding how to set up a bass guitar.
I found it very helpful and you helped me a lot to understand how to be diy of my instrument.
I had some previous experience with set ups but your guide gave me a deeper knowledge.
I think is an essential guide for the professional working musician.


Kind Regards
http://www.bassguitartuition.co.uk/
http://www.drbassclinic.com/
http://www.myspace.com/drbassclinic
Invaluable. We're all in Jerzy Drozds debt


Here are just few more comments from TalkBass forum I´v got after publishing this ebook:
It's incredibly well done. Great detail & illustrations. I wish I had recieved an e-mail like that back when I started doing my own set-ups
Very detailed, good pictures and diagrams. This should be a sticky
it really is definitive in my opinion. I thought I understood quite a bit, but A LOT of what I had known was slightly sketchy after I read this. Thanks to Jerzy for such an awesome, easy-to-understand manual!
I got mine and printed it also. This is an excellent guide with valuable little tips. Well done!
This is great info, thanks. Just what I needed to setup my new basses
Remember
This Ultimate Guide is an open document and will be upgraded
with new additional information. You will be able to get always latest
version for Free as long as you stay registered on our wesite.
Enjoy this Bass Setup Guide and let us know what you think about it. You can post also your questions to our Forum regarding this Guide.


I wish you success in your own bass setups,

Jerzy Drozd