Available Legend YC Signature basses
Legend XII Yves Carbonne Signature is a direct result of close collaboration with great artist Yves Carbonne. We took original concept of Legend bass guitar and have added specific options and design solution specially adapted for Yves Carbonne vision of ERB instrument.

As a result Legend Yves Carbonne Signature model represent totaly different concept when compared to original Legend bass.
Mr. Carbonne has absolutley clear ideas about tone of his instrument and his Legend Yves Carbonne Signature instrument deliver that tone. Many of these ideas sounded a bit counterintuitive in standard way of thinking in bass guitar building industry, for example building 10 or 12 string one piece neck sound awkward if you compare it to multilaminate necks considered to be a must.
Attaching that wide 12 string neck to hollow body with only 5 (!!!) screws seems insane too, given all that string tension.
There are much more secret ideas and design solution inside this marvelous instrument you will not find elsewhere and the result went to be an extraordinary looking and sounding musical instrument.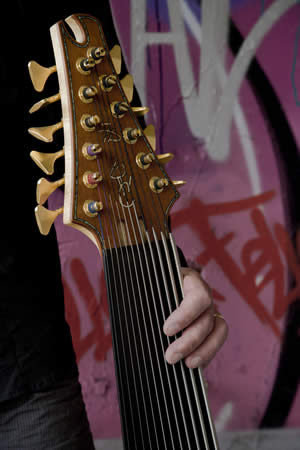 Listen to Yves Carbonne beuatiful playing and his Legend YC Signature bass on his solo albums which are available on iTunes, CD Baby or on CD.
Yves Carbonne Seven Waves CD is available on ITunes here and on CD Baby here
Yves Carbonne A Life CD is available on ITunes here and on CD Baby here
Legend Yves Carbonne Signature bass pecifications

String version

4 string
5 string
6 string
7 string
8 string
9 string
10 string
11 string
12 strings

Scale

34"

Standard Frets nº

Fretless with 41 fret positions or 41 thin mandolin frets; 1,3mm wide and 0,94mm high
Is 24 fret version available?



no

Is 28 fret version available?

no

Is 36 fret version available?

no
Body
mahogany
Construction
bolton neck
Neck
one piece flamed maple
Headstock
Angled 8º grade; headstock top matching body top
Fretboard
Ebony
Fingerboard Radius
20" (508mm) up to 6 string and 90" (2286mm) 7 string instruments and above
Inlays
2mm diameter side dots, Frontal 6mm diameter markers are optional
upon request at no charge
Nut
Ebony

width at nut

38mm
45mm
52mm
59mm
66mm
75mm
82mm
90mm
95mm

width at 24th fret

62mm
76mm
92mm
100mm
n/a
n/a
n/a
n/a

Thickness 1st fret

20mm

Thickness 12th fret

22mm

Tuners

Hipshot Ultralite

Bridge

Jerzy Drozd propietary ebony bridge and tailpiece, adjustable (string spacing is not adjustable)

Piezo

Yes (RMC)

strings spacing

@ bridge

19mm
18,5mm
18mm
18mm
18mm
18mm
18mm
18mm
18mm

Hardware color

Gold
Pickups

JeDXS bass pickup - Jerzy Drozd split single coil type pickup + RMC pickups at bridge

Electronics

Aguilar OBP-3 active preamp - 3 band

Controls

Volume, Balance, Treble, Middle, Bass, Passive tone, Active/pasive switch and Mid
frequency selector 400/800Hz

Knobs

Wooden dome knobs, 18mm diameter

Body finish

Poliurethane/ Acrilic satin finish

Neck finish

Poliurethane/ Acrilic satin finish

Strings

Jerzy Drozd CLASSICS strings 10-14-20-30-40-60-80-100-130-165-195
(for 12 string version Labella strings are used)

Case

4-7 string basses include light foam case, 8 strings and up include custom gig bag

aproximate weight (*)

3,3kg
(7lbs)
3,6kg
3,9kg
4,2kg
4,5kg
4,8kg
5,1kg
5,4kg
5,7kg

(*) these numbers are average for standard Legend Yves Carbonne Signature bass guitar and may vary depending on chosen woods and options

All features and specifications subject to change without notice.
Prices may vary depending on version, chosen finish and hardware.
Legend Yves Carbonne Signature bass is equiped with one magnetic pickup, piezo bridge and OBP-3 Aguilar preamp.
Passive tone operates in passive and active mode as well. This layout allow you to play only with magnetic sound or accoustic sound (piezo) or blend them all together.
Magnetic pickup
Legend Yves Carbonne Signature bass pickup is based on our JeDXS design. This single coil, split design pickup gives great bright yet warm tone without any noise.
Piezo pickup
Piezo pickup installed inside of ebony bridge produce bright acoustic sound. Piezo bridge is available as standard option on all Legend Yves Carbonne Signature basses.
Preamp

OBP-3 from Aguilar company is our standard preamp for majority of our instruments. You can read more about this great preamp here

Yves Carbonne and Scott Pazera
Yves playing his Legend X Yves Carbonne Signature bass
with Scott Pazera playing Sequel VI bass


Yves Carbonne and Jeab Baudin
Yves playing his Legend X Yves Carbonne Signature bass
These are actualy available Legend Yves Carbonne Signature basses