Oracle Silver

{2jtoolbox_content tabs id:1 begin title: General Info}
... Oracle bass is our latest creation inside of our bass guitar line. It was created specialy to offer you great playability and wide varitey of sounds within lightweight 33" scale instrument ...
The Oracle bass guitar has it´s own unique caracter with diferent sound variation than Obsession series. What you will note soon is it´s light weigh which not only contribute to great playability but also to the sound.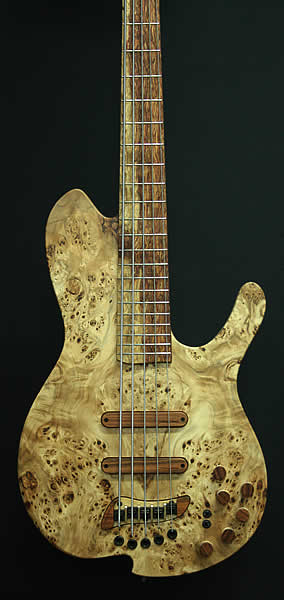 The easy access to upper frets, great ergonomic in sitting or standing position and of course the sound will make a joy playing this unique instrument.
We have decided for 33" scale for this bass to make it´s sound caracteristics unique and to make the whole neck playable without any restrictions. If you are used to play long 35" scale basses you will feel difference on the first sight.
Oracle™ is our response for bass guitar focused on great playability and great ergonomic. If you spend long hours playing and giging and you need lightweight and easy to play instrument then Oracle bass guitar is for you.
Due to it´s dual pickup position ( in some versions) we also created unique thumbrest so you can feel confortable along entire space between fretboard and pickups.
Our two JeDXS single coil split pickups are wired in series/paralel for exquisite soundings.
Set-in Neck
24 and 26 Fret Versions
Fully Adjustable Proprietary Wooden Bridge
Thumbrest and Ramp
Flat (no radius) Fretboard
Different Pickups Configurations
Oracle Silver bass guitar specifications

String version

4 string
5 string
6 string
7 string
8 string
9 string
10 string
11 string

Scale

33"

Standard Frets nº

24 medium frets; 2,13mm wide and 0,99mm high
26 fret version

Yes
28 fret version

Not available
36 fret version

Not available

Body

swamp ash

Body Top

Choose between: Black Poplar Burl, Flamed maple or Figured Redwood

Construction

Set-in neck

Neck

3 piece, maple, ash and thin wenge runners

Headstock

Angled 8º grade; swamp ash headstock top

Fretboard

Standard: Maple, Pau Ferro or Bird´s Eye Maple

Custom option: Black Ebony , Macassar Ebony, Two Tone Bubinga Pomele

Fingerboard Radius

Flat (no radius) Custom option: 20" radius (508mm)

Inlays

2mm diameter side dots, Frontal 6mm diameter markers are optional
upon request at no charge

Nut

Ebony

width at nut

40mm
45mm
52mm
54mm
n/a
n/a
n/a
n/a

width at 24th fret

62mm
76mm
92mm
100mm
n/a
n/a
n/a
n/a

Thickness 1st fret

20mm

Thickness 12th fret

22mm

Tuners

Hipshot Ultralite

Bridge

Jerzy Drozd propietary Oracle wooden bridge, fully adjustable

strings spacing

@ bridge

19mm
17mm
17mm
17mm
n/a
n/a
n/a
n/a

Hardware color

Black Hardware
Pickups

JeDXS bass picups - Jerzy Drozd split single coil type pickups

Electronics

Aguilar OBP-3 active preamp - 3 band

Controls

Volume, Balance, Treble, Middle, Bass, Passive tone, Active/pasive switch and Mid
frequency selector 400/800Hz

Knobs

Wooden dome knobs, 18mm diameter

Body finish

Poliurethane/ Acrilic satin finish

Neck finish

Poliurethane/ Acrilic satin finish

Strings

Jerzy Drozd "Classics"

Case

4-7 string basses include light foam case, 8 strings and up include gig bag

weight (*)

4 string
3,2kg
(7lbs)
5 string
3,7kg
(8.16lbs)
6 string
n/a
7 string
n/a
8 string
n/a
9 string
n/a
10 string
n/a
11 string
n/a

(*) these numbers are average for standard Oracle Silver and may vary depending on chosen woods and body version (24 or 26 fret version)

All features and specifications subject to change without notice.
Prices may vary depending on version, chosen finish and hardware.