JERZY DROZD Siracusa

Do not disturb my circles!
"Nōlī turbāre circulōs meōs!" is a Latin phrase, meaning "Do not disturb my circles!". It may have been uttered by Archimedes of Syracuse, the finest scientist and mathematician of the ancient world, as his last words.

Archimedes was killed by a Roman soldier when his city, Syracuse, was taken by the Romans. The legend goes to state that Archimedes was found while engaged in drawing a geometrical diagram in the sand, the city burning around him.

There are many versions of the story of his killing. According to one of Plutarch's versions, Archimedes was working out some problem by a diagram, and having fixed his mind alike and his eyes upon the subject of his speculation, he never noticed the incursion of the Romans, nor that the city was taken. In this transport of study and contemplation, a Roman soldier, unexpectedly coming up to him with a drawn sword, offered to kill him; and that Archimedes, looking back, earnestly besought him to hold his hand a little while, that he might not leave what he was then at work upon inconclusive and imperfect; but the soldier, nothing moved by his entreaty, instantly killed him.

These last words attributed to Archimedes, "Nōlī turbāre circulōs meōs!", are a reference to the circles in the mathematical drawing that he was supposedly studying when disturbed by the Roman soldier.

For us, the centerpiece of this story is not Archimedes' genius but Archimedes' passion, hot and pure. As Plutarch describes it:

"Oftimes Archimedes' servants got him against his will to the baths, to wash and anoint him, and yet being there, he would ever be drawing out of the geometrical figures, even in the very embers of the chimney. And while they were anointing of him with oils and sweet savours, with his fingers he drew lines upon his naked body, so far was he taken from himself, and brought into ecstasy or trance, with the delight he had in the study of geometry."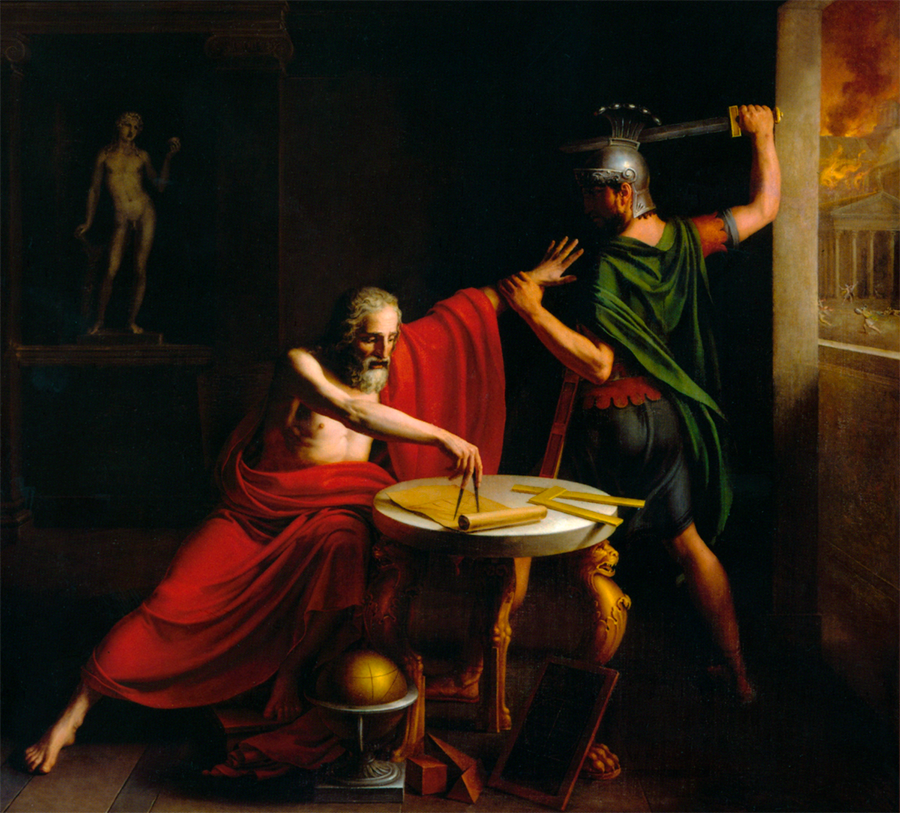 "Death of Archimedes", 1815, Thomas Degeorge (1786-1854) Clermont-Ferrand, Museum of fine arts
JERZY DROZD Siracusa

---

Discover JERZY DROZD Siracusa
---
ALREADY ACQUIRED


If you are interested in a similar JERZY DROZD creation, please consult us
---
JERZY DROZD Siracusa
Collection: Oracle, Model: Oracle Gold V, Reference: 60315-JD

---
    

OUR TRIPLE COMMITMENT WITH OUR CLIENTS

---

   JERZY DROZD 6 YEARS WARRANTYJERZY DROZD guarantees your JERZY DROZD instrument against any manufacturing fault for a minimum period of 6 years from the date of purchase specified on its Certificate of Origin   JERZY DROZD COMPLIMENTARY 2 YEARS CARE PLANThroughout the first two years after purchase, the new legitimate proprietor of a JERZY DROZD Creation will enjoy our complimentary care plan:
setup, adjustment and routine service carried out exclusively by master Jerzy Drozd hands.   JERZY DROZD LIFETIME SUPPORTBesides the magnificent 6 years warranty and complimentary 2 years care plan, JERZY DROZD LIFETIME SUPPORT provides e-mail support to JERZY DROZD legitimate proprietors for any consultation regarding his JERZY DROZD Creation lifetime.



   

40 DAYS REFLECTION PERIOD FOR YOUR PEACE OF MIND

---

We are well aware that acquiring a JERZY DROZD is to make come true a long-standing dream. It is essential to us that you relish the encounter with your dreamed JERZY DROZD. For this reason, after receiving your JERZY DROZD Exceptional Creation, you will enjoy a 40 days period of reflection, during which you may return your JERZY DROZD Exceptional Creation and receive refund of the full value of the instrument.




---
FEATURES

---
JEWELLERY ART INLAY
---
Name:
Nōlī turbāre circulōs meōs!
Placement:
Fretboard
Materials:
- 935 Sterling Silver -
- 9ct Rose Gold -
- Turquoise Stone -
- Burma Ruby Stone at 12 fret position -
(aproximate weight 0,16ct)
---
---
JEWEL CRYSTAL DOME KNOBS
---
Designed to match fretboard inlay
Materials:
- 935 Sterling Silver -
- 9ct Rose Gold -
- Turquoise Stone -
---
Set-in neck
5 strings
33" scale
24 Gold Arcadia frets
Chambered hollow body
Terminalia superba core body
Spalted
Acer saccharum body top

& headstock


Burl
Acer saccharum body back

& headstock
3 piece figured Acer saccharum neck
Bronze nut
Diospyros celebica flat fretboard (no radius)
White & Gold hardware
Light alloy&Wood JERZY DROZD bridge
New precision screw-bolt for bridge and pickups
Stainless steel precision screws
Light alloy JERZY DROZD back plate
JeD5XS v3.6 pickups with Bird´s Eye Acer saccharum covers, satin finish
FlexCore 4 Band preamp
Volume, Balance, Treble, Middle High, Middle Low, Low

Passive tone

Mid frequency selector for Middle High


Mid frequency selector for

Middle Low
Active/Passive switch
Pinctada margaritifera JERZY DROZD emblem
JERZY DROZD Crystal hi gloss finish
Weight: 3,7kg (8.16lb)


HIGHLIGHTS

Nōlī turbāre circulōs meōs! jewellery art inlay on freatboard
❦
Jewell knobs

matching fretboard inlay


❦


Spalted Acer saccharum body top & headstock


❦


Burl Acer saccharum body back

& headstock



---